National Carpet Equipment
About National Carpet Equipment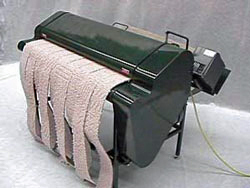 World's most innovative tool designer and manufacturer. Whether it's a simple tool or a major labor saving device, NATIONAL is in the business of solving problems, from heavy material handling to fine precision carving, beveling and everything in between. We make it our business to listen to your needs and provide you not only with the right equipment, but also with expert advice and training you need to get the job done.

All of our products are engineered by experience. Through years of manufacturing and design experience, we discovered ways to improve all facets of the floor covering industry. Tools and equipment have been developed to make jobs go faster and easier. We now hold many U.S. patents on tools and equipment that we have developed, tested and manufactured for use throughout the floor covering industry.

Our solutions lead to success. Through the years, we've helped scores of businesses reach greater efficiency in their diverse operations. With hundreds of quality products in our line, we're still listening to you and responding with new tools and techniques to solve your problems. Let us know how we can help you. At NATIONAL it's our business to know.
---
---